Is the Mazda3 Front-Wheel Drive?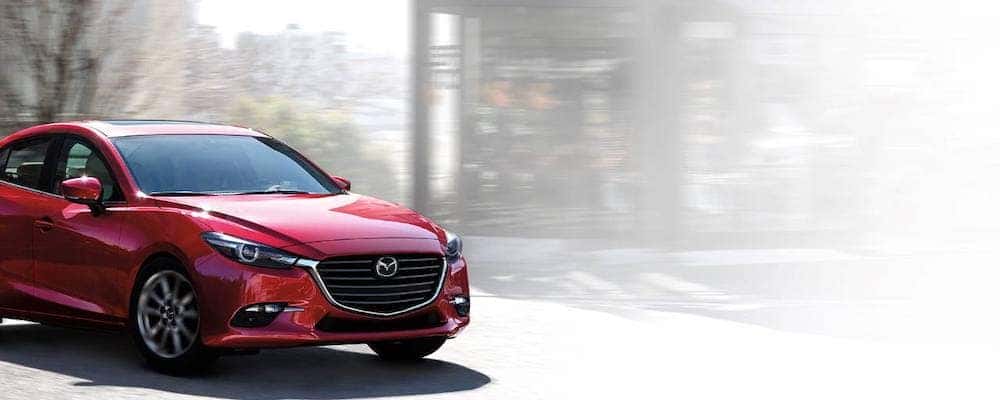 Yes! The Mazda3 Sedan and Hatchback come standard with front-wheel drive
. All-wheel drive is optional on some models, but with new innovative
SKYACTIV® TECHNOLOGY
, you won't necessarily need it. Learn more about this advanced tech and more at University Mazda today, or contact us to schedule a test drive to experience the Mazda3 performance in person.
SKYACTIV® TECHNOLOGY on the Mazda3
SKYACTIV® TECHNOLOGY is used to enhance a Mazda model's performance and fuel efficiency. The SKYACTIV®-Drive 6-speed automatic transmission helps assist with a smoother and quicker acceleration with more precision. And with SKYACTIV®-VEHICLE DYNAMICS with G-Vectoring Control, your new Mazda3 will be able to assign power to the wheels that need it most, as well as keep you steady with a more controlled shift of the vehicle's weight.
What is Front-Wheel Drive?
Front-wheel drive is when the transmission of the vehicle sends the power to the front wheels. FWD vehicles also tend to get better fuel economy and emit less carbon dioxide, although this means the rear wheels don't receive power of their own.
How to Rotate Tires on a Front-Wheel Drive Vehicle
For FWD models, rotating the tires has a slightly different process than if the vehicle was AWD. If you decide to rotate your vehicle's tires on your own, follow these steps to properly rotate the tires on your front-wheel drive Mazda3:
Move the front tires to the back, keeping them on the same side.
Move the back tires to the front, but move the left back tire to the front right and the right back tire to the front left.
Crossing the tires this way helps the tires get more even wear and last longer. If you rotate them differently, the tires may wear faster in different spots, and you may end up needing to replace them sooner.
Test Drive the Front-Wheel Drive Mazda3 at University Mazda
If you're wondering how the front-wheel drive Mazda3 handles, you want to compare the Mazda3 vs. Honda Civic, or you want to learn more about general vehicle maintenance, including Mazda oil changes, make the trip to University Mazda near Rio Rancho today to test it out for yourself! While you're in the area, we're also happy to provide you with local recommendations, such as the best restaurants to try! Don't hesitate to contact us in the meantime with any questions about our models, including about the Mazda6 configurations or even to learn who makes Mazda vehicles.