How to Buy a Car in Another State

No matter if you live in Rio Rancho or Santa Fe, it's possible to find a great deal on a new car out of state. If that's the case for you, learn how you can buy a car out of state. We have plenty of drivers asking, 'can I buy a car out of state?' And to that, we simply say yes! That's why we've created this handy guide to help drivers learn how to purchase a new vehicle out of state. Check out these tips below and get in touch with our finance team with any questions.
Buying a Car Out of State: Registration
Though this may seem like a hassle, buying a car out of state is quite simple. The main difference is that you'll need to register the car in your home state. Registering and placing your license plate on a vehicle bought from another state only needs a few pieces of information and a trip to the DMV:
Be sure to have a bill of sale with the purchase price you paid.
Find your local DMV.
You will need a bill of sale, a photo ID, proof of residency, and proof of insurance.
Inform the DMV clerk that you bought your car in another state and intend to title and register it at your address.
The clerk will keep the title from the state where the dealership is located.
You will be asked to pay the difference in sales tax between the two states.
Your new title will be sent to you by mail.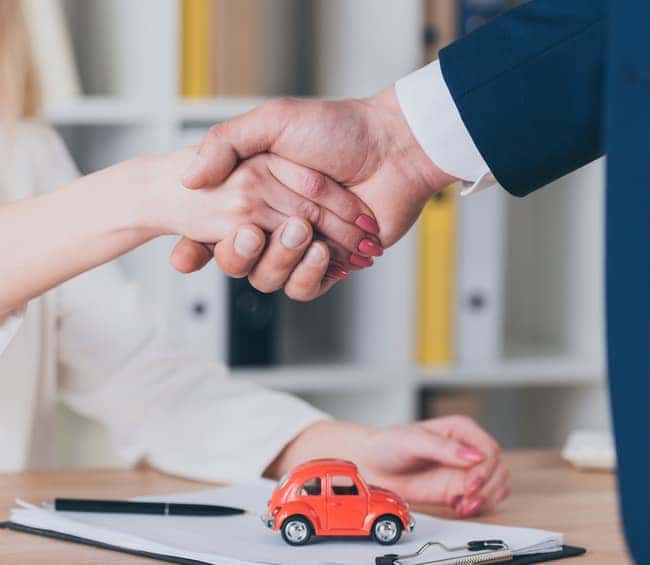 Buying a Car Out of State: Taxes and Fees
When buying a new car out of state, there may be a few extra payments. However, you don't have to worry about paying hundreds more. You'll also be happy to know the registration process is the same. Fees when buying a car from another state can include:
Local sales tax
Difference between tax in dealership state and your state's sales tax
Any applicable DMV processing fees
Learn more about Buying a Car in Another State with University Mazda!
After learning how to buy a car in another state, apply for financing online to get the process started on your favorite model. Looking to save more? Check out our available new vehicle specials. In the meantime, if you have any questions about GAP insurance, bad credit car leasing, how car financing works, or want to learn more car buying tips, contact our team!
More from University Mazda
Albuquerque drivers love the Mazda CX-9 because it's fun to drive and has an excellent towing capacity. But there's much more to love about this Mazda than just a responsive performance. The 2023 Mazda CX-9 interior is equally as impressive! Whether you need more space for a growing family or extra room for your Rio Rancho…

The 2023 Mazda CX-5 will make a stunning addition to any driveway in Rio Rancho. The Mazda KODO design language brings soul and sophistication to the CX-5, so you're sure to stand out among the drab and familiar vehicles seen around Santa Fe. But the Mazda CX-5 colors also make it a stunner, with a wide range…

The fanfare around the 2023 Mazda CX-5 is well-founded, but not everyone is attracted to the same Mazda CX-5 trim. So, which of the Mazda CX-5 configurations is most appealing to your Rio Rancho taste? Explore this University Mazda Mazda CX-5 trim comparison at University Mazda to truly decide. If you still have questions or you are interested…