How Long Do Car Brakes Last?

How long do car brakes last with normal driving in your Mazda vehicle? The average brake pad lifespan is every 25,000 to 65,000 miles. That's a broad range, and the exact answer depends on factors such as driving habits, the terrain in Rio Rancho, your Mazda model's brake pad type, and more. Read our guide below to find out how long you can expect the brake pads in your Mazda vehicle to last, and contact us at University Mazda to learn why keeping up with your Mazda maintenance schedule keeps your car running smoothly.
How Many Miles Do Brakes Last?
While most brake pads last between 25,00 and 65,000 miles, some vehicle types and driving conditions result in longer or shorter brake life. When it comes to planning your routine maintenance check-ups, schedule a brake pad change for every 40,000 miles to ensure you don't fall behind on routine car care.
How long do car brakes last for your Mazda model? Your car's routine maintenance schedule provides you with manufacturer-recommended service intervals that are specific to your vehicle because they factor in every variable — from torque calculations to OEM part specs. Still, the lifespan of your brake pads can depend on external factors like the kind of driving you do most in Santa Fe, whether in the city, on the highway, on the job site, or off-road.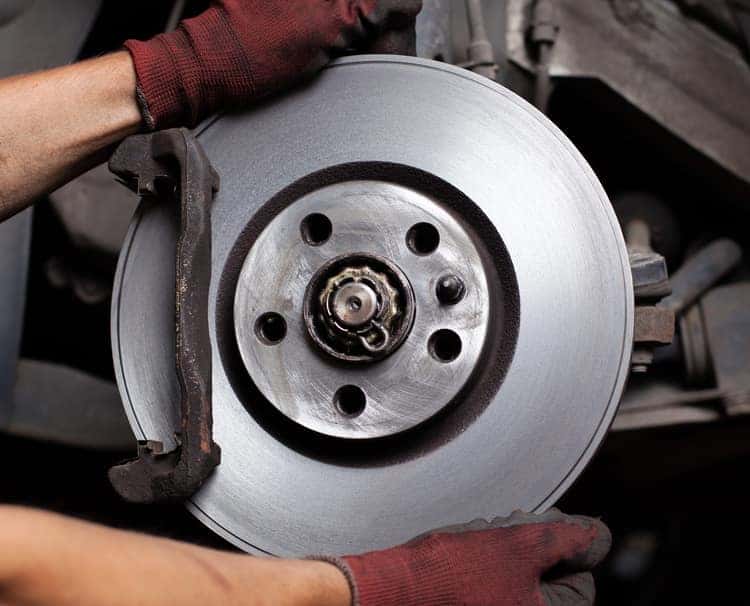 More Factors That Impact Mazda Brake Pad Life
Certain driving habits and conditions put more stress on your brakes — not to mention the transmission system and engine. How many miles do brakes last driving mostly on the highway for commutes to Farmington vs. downtown traffic in Rio Rancho? Take a look at how various factors affect brake pad life:
Driving Habits — If you tend towards aggressive driving habits (i.e., riding and slamming the brakes) your brake pads will wear out faster. Coasting to a stop with gentle pressure on the brake pedal can help preserve them.
Driving Environment — If most of your driving takes place on the highway, you can probably expect your brake pads to last a little longer than normal. Meanwhile, stop-and-go city driving requires more braking and wears the brake pads out faster.
Brake Material — Many high-end vehicles are available with carbon-ceramic brakes. While carbon-fiber can be a costly upgrade, they last longer than metal brakes and will require less frequent brake pad changes. If you're interested in Mazda performance brake upgrades, you can order parts online through the University Mazda parts center.
Rely on University Mazda for Essential Brake Care in Albuquerque
Wondering what you can do to keep your Mazda in top condition between service visits? Contact the University Mazda service center to speak with a technician about maintenance checks you can take care of yourself, even if you don't have any auto care experience. From tire treads to engine oil, we have you covered!
More from University Mazda
Albuquerque drivers are raving about the 2021 Mazda Miata for its responsiveness and style, but they aren't the only ones that have taken notice of this popular roadster. There's a reason that it's the best-selling two-seat sports car of all time! Auto experts have a lot of good things to say in their 2021…

When it comes to the 2021 Mazda CX-5, the reviews simply don't lie: the newest Mazda CX-5 performs as well, if not better than it's more expensive counterparts. Everyone can appreciate the value the Mazda CX-5 brings to the table. Rio Rancho drivers and experts alike are giving the Mazda CX-5 stellar reviews and highlights that…

Rio Rancho drivers looking for a sleek and modern ride will find that they are able to elevate their commutes when they explore the new 2021 Mazda CX-30 specs. With two available engines and drivetrain options, as well as plenty of interior space, and a one-of-a-kind exterior, the Mazda specs on the Mazda CX-30 are going…