Should I Buy or Lease a Car?
One of the first things to look into when in the market for a new or new-to-you vehicle is which financial path to take. You'll need to compare leasing vs. buying to decide which is the right fit. While there are benefits to both, one will likely work better for you and your financial needs, allowing you to get what you want out of a new vehicle. Take a look at the benefits that come along with financing and leasing, so you know which is right for you when you visit us at University Mazda for your next Mazda model.
Benefits of Buying a Car
Total Ownership: Buying a vehicle means it's yours completely. This means you're free to customize as you please. Total ownership means no restrictions on decorating, modifying, and more.
No Mileage Restrictions: If you're driving your vehicle inside and outside of the Farmington area, you may want to consider buying. Leases have a mileage limit. When buying, you're free to drive as much as you want.
Customization: Want to make your new vehicle more "you"? Buying allows you to make cosmetic and mechanical changes as you see fit. Create the car of your dreams without restriction!
Financing Options: The car financing process is more straightforward and generally open to those without perfect, or even great, credit scores. Buying also allows you to refinance your loan to lower your interest rate and monthly payments.
Less Cost Over Time: Though buying a new car is more expensive in the initial period, it is less troublesome in terms of cost over time as you work towards paying off your loan. With total ownership, the vehicle becomes less expensive to own the longer you have it.
Ability to Sell: Since you're not locked into a lease agreement, you can opt to sell your vehicle whenever you choose.
Benefits of Leasing a Car
Lower Payments: Whether it's monthly payments or down payments, when you lease a vehicle those costs will be much lower than buying.
Less Sales Tax: In most states, leasing a vehicle drastically lowers sales tax. In some areas, you only have to pay tax on the amount you put forth in the down payment and for the monthly payments.
Great Coverage: Leasing means great warranty coverage, leading to hassle-free maintenance, as any issue that pops up under your warranty, as long as you don't go over the mileage limit, is covered.
Trade-Ins: When your lease agreement is over, the process of getting your next leased vehicle is simple. Head to University Mazda, your local Albuquerque dealership, pay any remaining fees, and drive away in your next vehicle of choice.
Options: Leasing allows you to stay in the newest models with the most up-to-date tech every time you lease a new vehicle. You'll have tons of options and will be able to find the perfect model and features for you.
High Approval Rate: While you may be denied for a car loan, it is much easier to get approved for a lease, as even those with poor or no credit can be approved.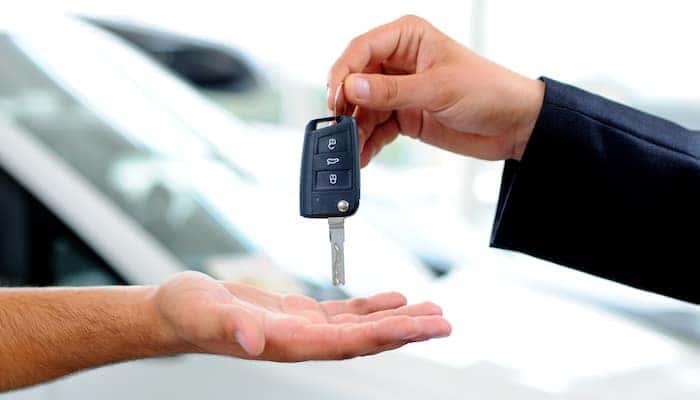 Explore Auto Leasing and Financing Options at University Mazda
So, which is right for you: leasing or buying? Whichever you decide on, remember the decision is based entirely on your personal needs and financial situation. Learn more about our leasing and financing deals at University Mazda, and speak with our finance department to get behind the wheel of your next Mazda today. If you have questions about our models, Mazda AWD vehicles, new vehicle specials, GAP insurance, want to find the best Albuquerque parks, learn how to buy a car out of state, about leasing with bad credit, and more, contact University Mazda, your local Mazda dealer.
Recents News from University Mazda
Albuquerque drivers love the Mazda CX-9 because it's fun to drive and has an excellent towing capacity. But there's much more to love about this Mazda than just a responsive performance. The 2023 Mazda CX-9 interior is equally as impressive! Whether you need more space for a growing family or extra room for your Rio Rancho…

The 2023 Mazda CX-5 will make a stunning addition to any driveway in Rio Rancho. The Mazda KODO design language brings soul and sophistication to the CX-5, so you're sure to stand out among the drab and familiar vehicles seen around Santa Fe. But the Mazda CX-5 colors also make it a stunner, with a wide range…

The fanfare around the 2023 Mazda CX-5 is well-founded, but not everyone is attracted to the same Mazda CX-5 trim. So, which of the Mazda CX-5 configurations is most appealing to your Rio Rancho taste? Explore this University Mazda Mazda CX-5 trim comparison at University Mazda to truly decide. If you still have questions or you are interested…